Ahmedabad, the largest city of Gujarat, caters to a large community of students and professionals aspiring for prospects abroad – higher studies, work and migration. Given the tremendous growth in the number of IT giants and engineering colleges in the past decade, the population of those in Ahmedabad wanting to study internationally has risen exorbitantly, making Ahmedabad one of the most preferred IELTS registration centres in Ahmedabad, Gujarat.
Top 10 Best IELTS Coaching Center in Ahmedabad
Here we have shared list of top 10 best ielts coaching classes in Ahmedabad who offering best coaching classes of IELTS, CELPIP, PTE, TOEFL and student visa consultant in Ahmedabad.
1. Ambrish Tiwari's - IELTS Academy Ahmedabad
The Best IELTS & Spoken English Coaching Classes in Ahmedabad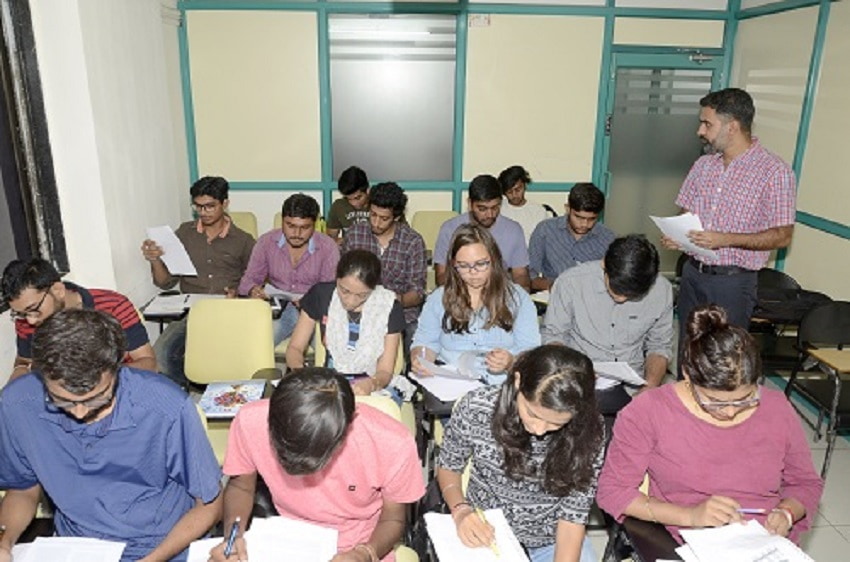 'Ambrish Tiwari's - IELTS Academy' - Over the period of years it has successfully trained over 8000 candidates for IELTS, TOEFL, PTE and Spoken English. Ambrish is ably supported by Mr. Rishi Mehta (IELTS Trainer), Mr. Hiren Raghu (IELTS Trainer), Miss. Deval Bhatt (IELTS Trainer & Student Counsellor) and Mrs. Yamini Naidu (Spoken English Trainer) at Ambrish Tiwari's - IELTS & Spoken English Coaching Classes.
At our Ahmedabad based IELTS institute, more than 90% students have achieved their desired bands in IELTS exam in the first attempt. In a span of just 2 years, we have moved from the top ten IELTS classes. Read our student reviews to know what makes Ambrish Tiwari's IELTS Academy Ahmedabad, the best IELTS Coaching in Satellite, Ahmedabad. We also offer IELTS training for IELTS – UKVI and Life Skills program.
Address:- SF-213 Stellar, Sindhu Bhavan Road, Near Pakwan Cross Road, S. G. Highway, Bodakdev, Ahmedabad-380054.(Gujarat)
Contact no:- +91 7433-808444 | +91 9558810811 | +91 9714699662
Email:- edusmartindia01@gmail.com
2. Saroja Mam's Institute
Certified IELTS Registration Centre of Both, IDP Education and British Council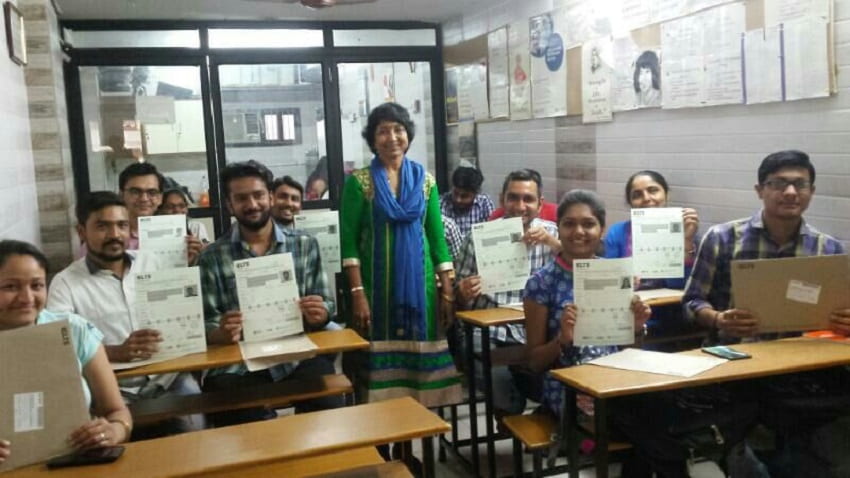 Saroja Mam's Institute in Ahmedabad is a leading Coaching & Tuition Centre. We are specialized in providing Coaching in various courses like IELTS, Language Development, Spoken English, Job Interview Skills, Vocabulary Improvement, Personality Development, etc. The Institute is aimed at honing the linguistic skills of students and helps to fructify their aspirations to go abroad under both - STUDENT VISA and P.R. , by imparting training for both - Academic Module and General Module of IELTS.
Saroja Mam's Institute was started in July 2009, in NARANPURA, on 'Guru Purnima'. Naranpura is a prime location and easily accessible by all means of transport including the BRTS Route. Saroja Mam is the EX. Academic HEAD OF PLANET (COACHING DIVISION). Moreover She has an excellent Track Record of over 15 years of having produced excellent IELTS Results.
Address:- A 106, Swaminarayan Avenue, AEC(TORRENT POWER) Cross Roads, 132 Ft. Ring Road, Naranpura, Ahmedabad - 380013
Contact no:- (+91)-9601269190, 9924919595
Email:- sarojamam@gmail.com
3. Navin Julka's Academy of IELTS & PTE Coaching Class
#1 IELTS Coaching in Ahmedabad & Training Institute in Ahmedabad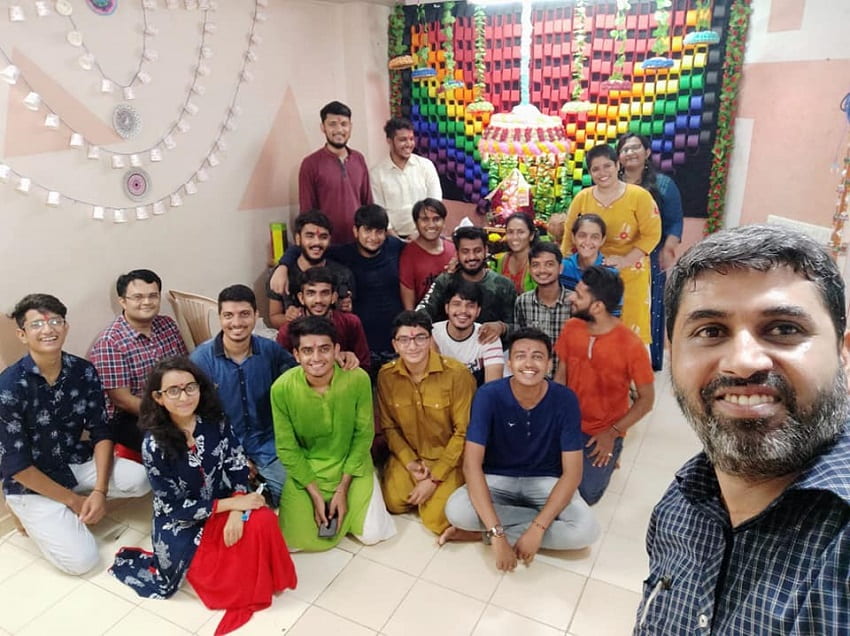 THE ACADEMY OF IELTS & PTE is the Top-rated IELTS & PTE Coaching Classes in Ahmedabad, Naranpura, started by Mr Navin Julka to cater to the needs of language training and competitive exams related to English language testing for immigration and overseas education purpose in the New West Zone and Central Zone of Ahmedabad.
Navin Julka's Academy an IELTS & PTE coaching Institute in Ahmedabad employs various productive strategies of IELTS coaching like Efficient Time Management, Mock Tests, Problem Solving, and Strategy Sessions, etc. to give our students the best IELTS and PTE training they need. All this comes with a good teaching environment and infrastructure. 
Address:- 211, Shanti Arcade, 132 Ft Ring Road, Opp. Jay Mangal BRTS Bus Stop, Naranpura, Ahmedabad, 380013.
Contact no:- +91 8128847113, +91 7600048087
Email:- njacademyofielts@gmail.com
4. Orbit Ielts Academy
#1 IELTS Coaching Academy In Ahmedabad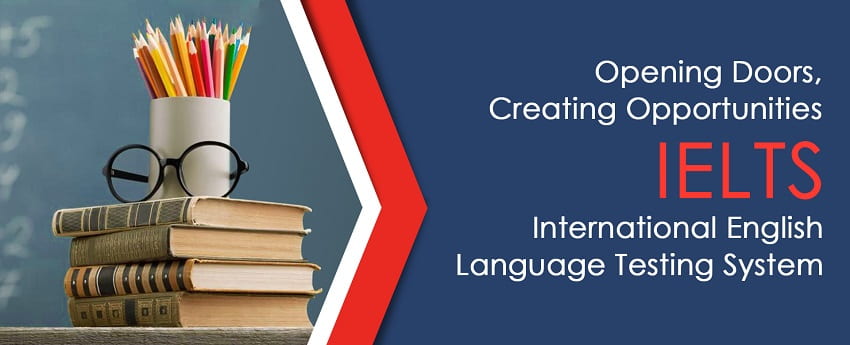 Orbit Group was established in 2007 with the aim to spearhead immigration process. Mr Mayur Patel (MSc in Telecomm & Computer N/W from LSBU UK, BE ITUVPCE), a British Citizen, established the organization 'Orbit Immigration' to help Student, Visitor and Migration Visa for the countries like the USA, Canada, Australia,New Zealand and UK. At the acme of consultancy services we felt the need to start a separate coaching for IELTS, TOEFL and PTE, thus establishing 'Orbit IELTS Academy' in 2014.This institute also offers training in Spanish, French and German languages.
IELTS Class in Ahmedabad – When you are going to pursue any higher study courses abroad at the world level, it becomes imperative for you to have a proficient command over the common language used in professional as well as academic world. In order to enhance your capabilities, various tests are there that make you not only eligible but also able for either work or study abroad and IELTS is one of this examination which is widely accepted in almost all top institutions.
Address:- 309-312, Kairos, Opp. Mahatma Gandhi Labour Institute,Drive In Rd, Memnagar, Ahmedabad, Gujarat 380052
Contact no:- +91-9099758969 | +91-9726926782
Email:- enquiry@orbitieltsacademy.com
5. Cambridge Institute of English and Foreign Languages
Centre of excellence for Spoken English, IELTS, TOEFL, PTE in Ahmedabad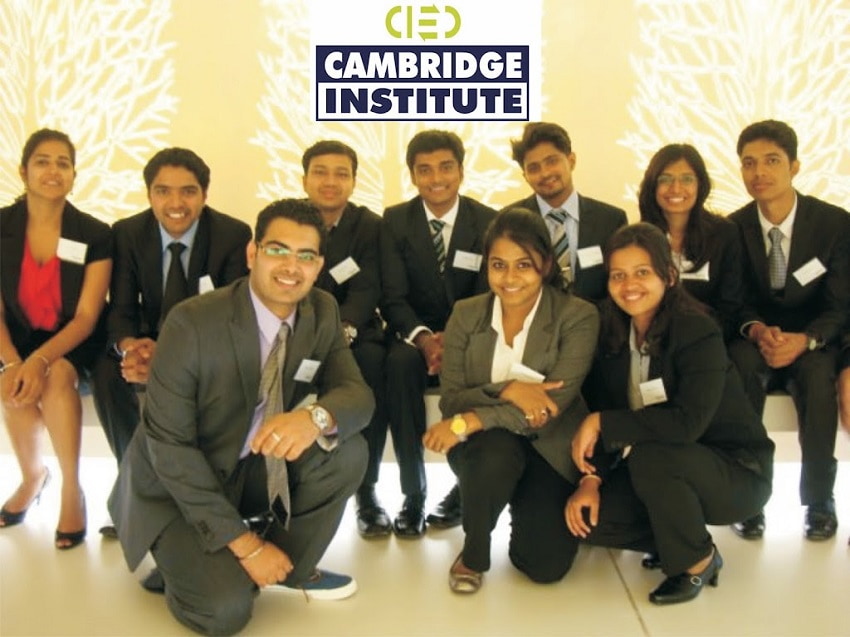 Cambridge Institute of English and Foreign Languages is a premier training institute in Ahmedabad, Gujarat headed by Mr Devang Solanki, eminent educationalist & Author of Enrich Your English Series, From modest beginnings in 1999, Cambridge Institute has transformed into a centre of excellence for Spoken English, French, German, IELTS, TOEFL, BEC & overall personality development. The Institute functions with the sole aim of providing high-quality English instruction. Its approach to learning guarantees success.
Address:- 307-309, 3rd Floor, Shree Narnarayan Palace, Beside Kothavala Flats, Opposite Deepak Petrol Pump, Pritamnagar, Ellisbridge, Ahmedabad-380006, Gujarat-India
Contact no:- +91 79 26581359 | +91 99988 06666 | +91 88662 32322 | +91 79 26581359  
Email:- Cambridge.devang@gmail.com
6. Vinay Patel Classes
Top-rated IELTS coaching classes center in Ahmedabad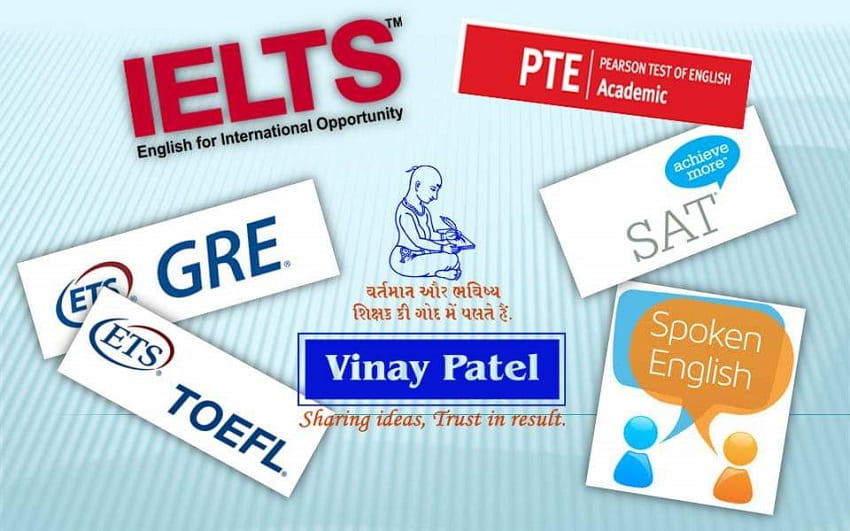 Vinay Patel Classes is working since 2001 on our institute and also with many government organizations, NGO's and in private sectors. Vinay Patel Classes have prepared about 10,000 students for foreign studies examinations such as IELTS, GRE, SAT, PTE, TOFEL, Spoken English and achieved a great height in Student Visa.
The International English Language Testing System, or IELTS is an international standardised test of English language proficiency for non-native English language speakers. IELTS tests the ability to listen, read, write and speak in English. Band scores are used for each language sub-skill (Listening, Reading, Writing, and Speaking). The Band Scale ranges from 0 band ("Did not attempt the test") to 9 bands ("Expert User"). Vinay Patel Classes covers all the aspects of each and every module. 
Address:- Block A-327, Swaminarayan Avenue, Naranpura, Ahmedabad.
Address:- 411, S.V. Square, New Ranip, Ahmedabad.
Contact no:- +91 97270 88760
Email:- info@vinaypatelclasses.com
7. Jeremy Education Centre - IELTS Center Ahmedabad
The Best Online IELTS Coaching Center in Ahmedabad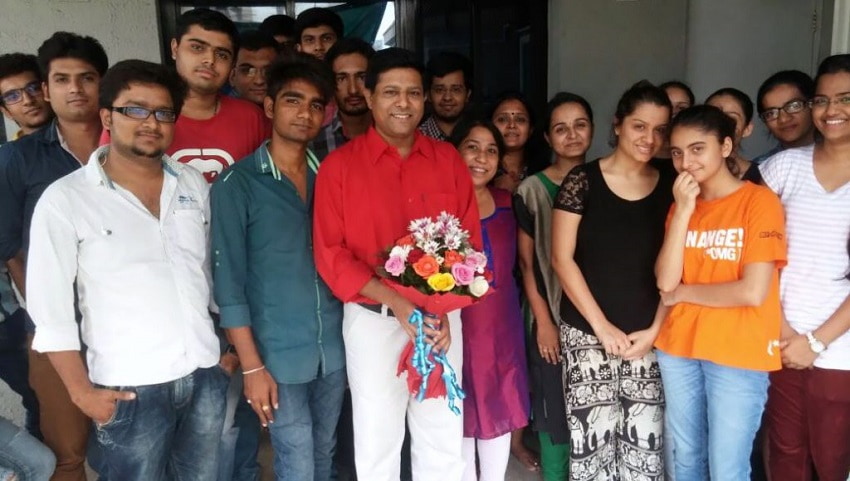 Jeremy Started from Home giving Personal Tutoring and still maintaining the same though it has became Bigger IELTS Center in Ahmedabad and Baroda with Online Coaching all over the Globe.
Our motto is Result Oriented Quality Education. We understand that to get the best result we need to prepare the environment for students giving them various facilities. The Expert Faculties have the core knowledge of every subject. We coach for the IELTS, OET, ACT, SAT, PSAT, TOEFL, PTE, GRE, GMAT, CMAT, CAT. PERSONALITY DEVELOPMENT is free for all the students.
Address:- 307, 3rd Eye Vision, IIM Rd, opp. Shivalik Plaza, near Panjrapol, Ahmedabad, Gujarat 380015
Contact no:- +91-9601421347
Email:- jeremyeducation10@gmail.com
8. Oxford IELTS coaching in Ahmedabad
One of the top rated IELTS Coaching Classes in Ahmedabad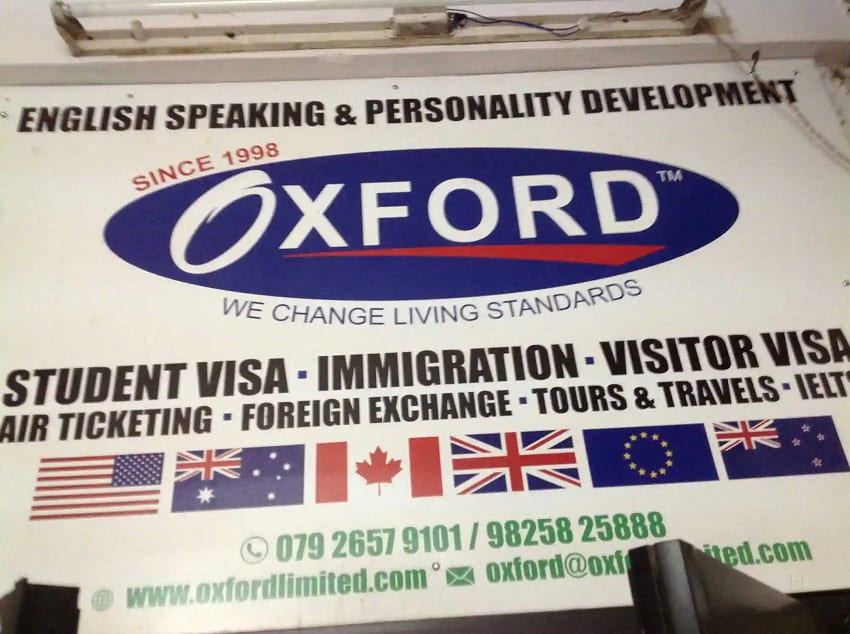 Oxford IELTS coaching in Ahmedabad started off as an English speaking training academy for professionals and corporates back in 2008. Since 2010, we've expanded into the IELTS coaching space considering the acute dearth of quality IELTS coaching in Ahmedabad. Today, we have the best team of extensively experienced, and qualified IELTS trainers in Ahmedabad, who have consistently enabled our students to excel their target scores. Moreover, our online IELTS coaching programme has been the preferred choice of IELTS candidates ever since its launch. Our students hail from diverse backgrounds across Ahmedabad, including areas such as, Prahladnagar, Maninagar, Satellite, Bopal, Ambawadi, Paldi, CG Road, SG Highway, Gota, Navrangpura, Vastrapur, Judges Bungalow, Shahibaug, Nikol, Vastral, Shyamal and Naranpura.
Oxford IELTS coaching in Ahmedabad has specialized modules for both, academic IELTS and general IELTS. We strongly believe that both these exams are fundamentally different in their nature and objectives, and consequently warrant unique approaches to deliver satisfactory results.
Address:- Oxford IELTS Coaching A 101, 15 Alpha rook, Jivraj, Ahmedabad - 380051
Contact no:- +91 9099956619
Email:- info@ieltscoachingahmedabad.in
9. Gill Sir - IELTS Coaching Center in Ahmedabad
Leading PTE, CAT, SAT & IELTS Coaching classes in Ahmedabad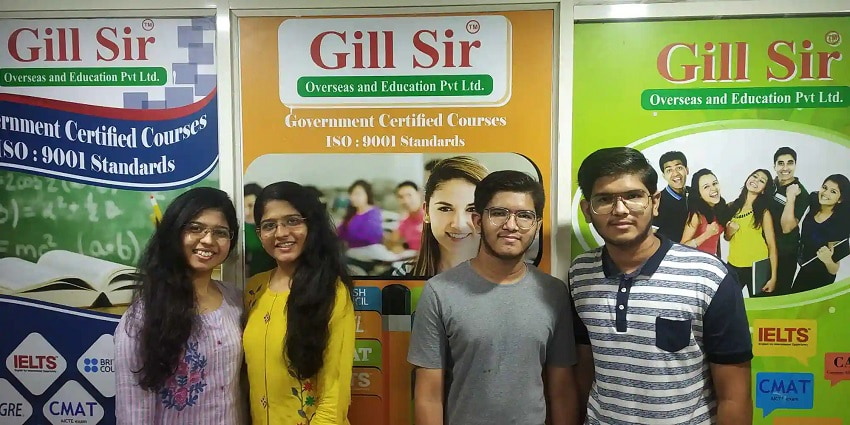 The IELTS classes are offered from Monday to Saturday. Get registered for IELTS exam date for free with us. A variety of IELTS resources are provided to the students You get IELTS study material, IELTS books, mock tests, sample tests and IELTS CDs. You can improve your score with our personal IELTS teachers at our academy in Ahmedabad. Join IELTS at Gill Sir in Ahmedabad - IELTS at Gill Sir in Ahmedabad - Get a free demo class for IELTS/PTE/TOEFL - You can choose between the Academic and General modules of IELTS.
Generally, many people are told that IELTS is a very simple and easy test which is completely or partly true. Yes, it is easy but it is simple for people who have a great command of the English language already. While it proves too difficult for people who come from Hindi medium or Gujarati medium. Such people face a lot of trouble choosing IELTS Classes and they go around hunting for coaching material and teaching centers for IELTS. And many times these candidates get dissatisfactory results or even get cheated after joining IELTS  coaching; behind which there are various reasons which we will not discuss in this article.
Address:- Gill Sir. Opp Good Luck Society, Beside Indian Bank. Daxini Society. Maninagar. Ahmedabad. Gujarat. India - 380008
Contact no:- +919898334999
Email:- mrgillsir@gmail.com
10. Navneet IELTS Institute Ahmedabad
Best IELTS (International English Language Testing System) Coaching center in Ahmedabad

Navneet Institute is Ahmedabad's pioneering English Language Training Institute(IELTS Coaching Institute in Ahmedabad), Established in the year 1985 with the aim to create awareness about importance of English Language. There were increased demands of effective English communication for common people from various businesses and services as well as students. And also there were limited numbers of such institutes which were providing for the said purpose.
Address:- 101-102, Prarthana Complex, nr. Kakadia Hospital, opp. Dinesh Chambers, Bapunagar, Ahmedabad, Gujarat 380024
Contact no:- + 91- 98989 99012 | +917818939492
Email:- info@navneet-institute.com | pratik.navneet@gmail.com